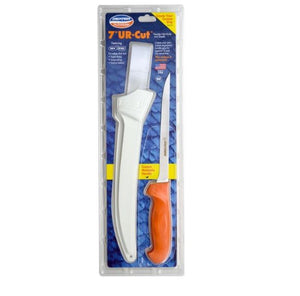 Dexter Russell UR-Cut 7" Flexible Fillet Knife Moldable Handle & Sheath 24673 UC133-7WS1-PCP
The Dexter UC133-7 7" UR-Cut™ Flexible Fillet Knife makes filleting and skinning your fillets easy. It's ultra-sharp out of the package and with just the right amount of flex to glide over the bones. Dexter Outdoors now provides the latest in handle technology... personalized handles. Moldable handle material allows the user to form each handle to their particular grip, making the handle more comfortable to use and easier to grip. It features our proprietary high carbon, high alloy, stain free DEXSTEEL™. This knife is NSF certified and is made in the U.S.A. Sheath included.
Care: Hand wash and dry. Avoid contact with other metals in a moist environment.